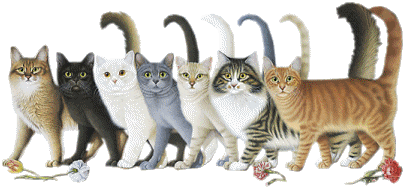 FICHE DE RACE
SHEETS BREEDS
ILLUSTRATIONS : CLIQUEZ ICI
TEXTE FRANCAIS : CLIQUEZ ICI
ENGLISH VERSION : CLICK HERE
STANDARDS DE RACE DE DIFFERENTES FEDERATIONS
BREED STANDARDS OF DIFFERENT FEDERATIONS
PHOTOS / PICTURES / ILLUSTRATIONS
le SNOWSHOE, le chat aux raquettes à neige

the SNOWSHOE, cat with snow shoeing

photos prochinement

pictures soon
Un tout grand merci aux éleveurs qui m'ont envoyés et permis d'afficher sur ce site leurs propres photos de chats de race provenant de leurs chatteries.

Ces photos ne peuvent en aucun cas être copiées et ni utilisées sans l'accord expresse et écrit de l'éleveur.

A big thank to all the breeders who sent me and allowed to post on this site their own photos breed cats from their omn catteries.

These photos can not in any case be copied nor used without the express written consent of the breeder.

NOM

TAILLE

C'est un chat de taille moyenne, musclé et agile.

POIDS

ORIGINE

CARACTERE

Le snowshoe est un chat fidèle et très attaché à son propriétaire, mais néanmoins pas aussi exclusif ni aussi vif que son ancêtre le siamois.

Le snowshoe est un chat calme, mais curieux. Il aime s'installer en hauteur pour observer les situations

CARACTERISTIQUES

le Snowshoe est un compagnon tendre et équilibré. Il est assez cool, voire réservé.

Il est également intelligent et s'adapte facilement. Les enfants n'ont rien à redouter de lui car il fait volontiers patte de velours

Ce chat a la particularité d'être un mélange entre l'ancien siamois, l'American shorthair et le Sacré de Birmanie.

La robe est courte et dense, soyeuse au toucher. Il ne réclame aucun toilettage.

Deux motifs de panachures sont acceptés : le bicolore et le mitted (ganté). En version « mitted », les quatre pieds doivent être blancs (les pattes avant juste gantées, les pattes arrière blanches jusqu'aux jarrets). En version « bicolore », le masque présente un V inversé aussi symétrique que possible. La truffe est rose. La proportion de blanc ne doit pas dépasser la moitié de la surface totale du chat.
Retour vers haut de page / Return to the top of the page

NAME

SIZE

It is a medium sized cat, muscular and agile.

WEIGHT

ORIGIN

CHARACTER

The Snowshoe cat is a loyal and very attached to its owner, but still not as exclusive or as vivid as his ancestor Siamese.

The Snowshoe is a quiet cat, but curious. He likes to settle in height to observe situations

CARACTERISTICS

Snowshoe is a soft and balanced companion. It's pretty cool, even reserved.

It is also intelligent and adapts easily. The children have nothing to fear from him because he willingly velvet paw

This cat has the distinction of being a blend between the old Siamese and American Shorthair Birman.

The coat is short and dense, silky to the touch. He claims no grooming.

Two patterns of variegation are allowed: bicolour and mitted (gloved). In Version "mitted" the four feet are white (front legs just gloved, white hind legs to the knees). In Version "bicolor", the mask has an inverted V as symmetrical as possible. The nose is pink. The proportion of white should not exceed half the total area of the cat.

STANDARDS DE RACE DE DIFFERENTES FEDERATIONS
BREED STANDARDS OF DIFFERENT FEDERATIONS
STANDARD LOOF ( France ) :
STANDARD NOK ( Pays-Bas, Nederlands ) :

cliquez ici / click here
STANDARD WCF :

cliquez ici /

click here /

klicken Sie hier
STANDARD TICA :



(choice your language on left top on the their web page) :
STANDARD FIFE :



cliquez ici / click here / klicken Sie hier
RETOUR MENU DES RACES : cliquez ici
Retour vers haut de page / Return to the top of the page
WebMaster & CatLover : jean-luc roffredo