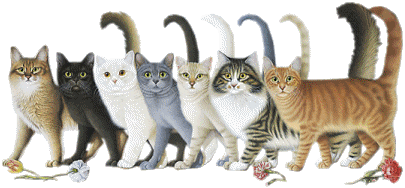 BREED SHEETS
* non-exhaustive list
To preserve a tradition sometimes more than a hundred years old, the same goes for the news recently recognized breeds by federations

To protect the genetic inheritance of these extraordinary cats,

To perpetuate offspring of cats lines always admired worldwide,

To promote the race to make them known to everyone their sublimity and their own characteristics.
The different breed files on this site have only one goal for information. The main indications are over. These cards are intended simple in as much information as possible to guide you to choosing a race or another, or just give you some indication of several different breeds. Depending on your wishes, but also your expectations, it is wise to inquire directly with the relevant Breeders and websites giving a more detailed description. They alone will give you all the information..

Note :

this list is obviously not exhaustive

such a master , such a cat ...

hairless cats : CLICK HERE
short hair : CLICK HERE
half long hair : CLICK HERE
long hair : CLICK HERE
SOME PAGES ARE STILL UNDER CONSTRUCTION
You are breeder, you agree that some pictures of your purebred cat
appear on this site ? This is to show the different breeds.
So do not hesitate to contact me ;-) A big thank you,
CLICK ON ILLUSTRATIONS TO GO TO THE DESIRED BREED

DONSKOI

DON SPHYNX

PETERBALD

SPHYNX

CANADIAN SPHYNX
CLICK ON ILLUSTRATIONS TO GO TO THE DESIRED BREED

AMERICAN CURL SH

( + AMERICAN CURL LH )

AMERICAN SH

&

AMERICAN WIREHAIR

RUSSIAN BLUE

( + NEBELUNG = RUSSIAN BLUE LH)

BURMESE

ENGLISH & AMERICAN

SOON

SOON

MANX

+ CYMRIC ( = Manx LH )

SOON

ORIENTAL SH

BIENTÔT / SOON

SIAMESE

THAI

TRADITIONAL SIAMESE
CLICK ON ILLUSTRATIONS TO GO TO THE DESIRED BREED

SOON

AMERICAN CURL LH

( + AMERICAN CURL SH )

BALINESE ( = siamese LH )

SOON

MAINE-COON

MANDARIN

= ORIENTAL LH

NEBELUNG ( = Russian Blue LH )

( + RUSSIAN BLUE )

SKOGKATT

NORVEGIAN FOREST CAT

RAGDOLL

SIBERIAN CAT & NEVA MASQUERADE

SOMALI ( = Abyssinian LH )
CLICK ON ILLUSTRATIONS TO GO TO THE DESIRED BREED

PERSIAN & HIMALAYAN